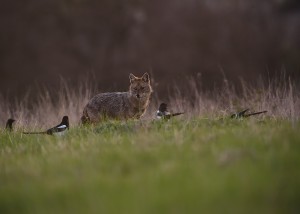 Our Golden jackal hide is situated just a couple of hundred meters from our Bee-eater, Roller & Hoopoe hides. It is a permanent all wooden hide organized as a feeding station. It is comfortable for up to 5 people. The hide can be used for photography and for observation as the photography embrasures could be easily replaced with huge mirror-glass windows for perfect views. Photography is also possible through the windows. Our main focus here is the Golden Jackal, but the hide is very often visited by birds and other mammals such as Wild Boar, Roe Deer, European hare. From the birds we can expect Golden Oriole, Eurasian magpie, Common wood pigeon, Pheasants, Common Buzzard some other raptors and if we are lucky White-tailed sea-eagle.
Reaching and visiting the hide
A guide of ours will take you from the Lodge and bring you to the hide. He will explain all the main rules for using the hide, and bring you back to the lodge after you finish your photographic or observation session.
The hide is easily reachable from Pelican Birding lodge and it is just 5 minutes by car or 15 minutes on foot. As the Jackals are more active at dawn and dusk entering the hide should be early in the morning before sunrise or late afternoon, a couple of hours before sunset. Usually we stay in the hides between 2-4 hours. Of course as long as we stay we increase our chances to see the animals.
Rules
Jackals are very common in the area, Bulgaria actually has the largest jackal population in Europe, and the biggest density of the animals is exactly in North-Eastern Bulgaria, but it should be noted that they are extremely wary animals.
On our way to the hides and once inside we should try to be as silent as we can as they are even frightened by sounds that can not locate. Any noise could ruin the chance to see or photograph them. Entering the hide should be in complete silence.
Do not forget to turn off your phone.
Do not use any devices which emit light as this can be easily noted by the animals
Talking should be only in a very low voice
Smoking is strictly forbidden
If the photographers are using the embrasures they should try to move their lenses very quietly and slowly while taking pictures. For a good success rate you must allow first any animals or birds to come closer to the bait and feel confident.
Food :
It is better to organize your food the day before or in the morning, at your accommodation place.  Use only soft plastic boxes or packages which are not noisy.
Toilet :
A toilet is not provided in the area of the hides, please do not forget to use the toilet in your room before you leave for the hide.
Best Period:  April – September, winter photography is also possible on request.
Weather:  Spring time in Bulgaria is with daily temperatures between 10-20C and sometimes lower at night or early in the morning. Rainfalls are also possible. Summer is usually hot with temperatures around and above 30C. Early autumn is with generally warm, sunny and steady Weather.
Photo Equipment recommendations:
Lenses:  400 to 600 mm lenses on full frame cameras.
Best cameras:  Full frame cameras with fast "frame per second" rate are preferable
Teleconverters:  1.4x , 1.7x, 2x teleconverters could be very useful
Do not forget:  Tripods
Important:
Usually we have warm weather during spring time and hot during summer, but it is useful to take with you – Waterproof shoes, jacket in case of rain. Repellents against mosquitoes.
As all the animals and birds around us are WILD, there isn't any 100% guarantee that you will be able to make good photos or observations if you stay just for day or two. The Golden Jackal is one of the most common animals in the area but their behavior is unpredictable. As long as you stay you increase your chances.
Price: 25 Euro  per person / per day 
THE PRICE INCLUDES: hide, chairs
THE PRICE DOESN'T INCLUDE: accommodation, photo equipment.
Bookings:  You can send your request using our booking form in the contacts & location section of the site or write us at pelicanbirding@abv.bg , pandiond@einet.bg